For those of you who want to know more about me… here you go!
My favorite people in the world are my kids. We laugh a lot together and have tons of fun! We're grateful that we live just a stone's throw from Lake Michigan so we can easily hop on our bikes to watch a sunset or jump in the waves. We don't watch television, but we enjoy making puzzles, playing board games, and watching movies. I am passionate about a lot in my life, but being a good role model to my kids and helping them feel confident to put their authentic self and purpose into the world is at the top of my list.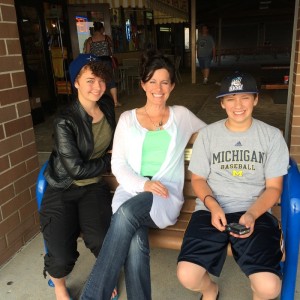 Here's a photo from a recent trip to our state park… we managed to skip ice cream, but someone did end up buried in the sand up to his neck, and we watched a stunning sunset.
One of the most important parts of my recent 14 years is reacquainting myself to Me. That might sound crazy, but I don't believe we need to recreate ourselves, I believe we are already wonderful… we just need to remove the years of 'stuff' that stops us from being truly happy. That stuff comes from all around us – our society and its beliefs, our family, our teachers and friends… and the limiting thoughts that plague too many people. It was a long road for me, but I am thrilled to have created programs for women that bring them along this journey in a much shorter time.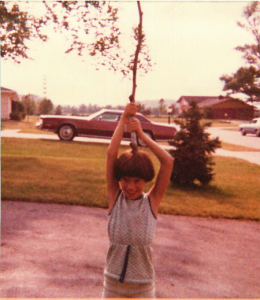 Here is a photo of me circa 1976. I was eight. And I was full of spunk and confidence – even though I sported a Dorothy Hamill haircut that really didn't complement my little head and even though I was goofy enough to put a stick on my head! Most little girls lose this vivacious, confident part of themselves around the age of nine when they begin to want to please those around them even if they are unhappy. I keep this photograph in my Sacred Space where I pray and meditate each day. It reminds me of the true Me.
I have had many blessings in my life. Some of them will probably surprise you… at least the fact that I find them 'blessings'.
Some typical blessings in my life: my amazing children who steal a piece of my heart each day, my wonderful family, fabulous friends, a healthy body, the opportunity to have traveled a bit in the world, my education, and a sweet, peaceful little home.
Some not.so.typical blessings that have shaped me: my struggle with addiction, my second child passing away shortly after birth, sexual abuse, divorce, and financial limitations. These experiences were painful and they brought me to my knees more than a few times, but they are also powerful and purposeful. I've learned a lot through my pain and struggles. In the end, the most important things I've learned are to love myself and to trust God and life.  [tweet that!]