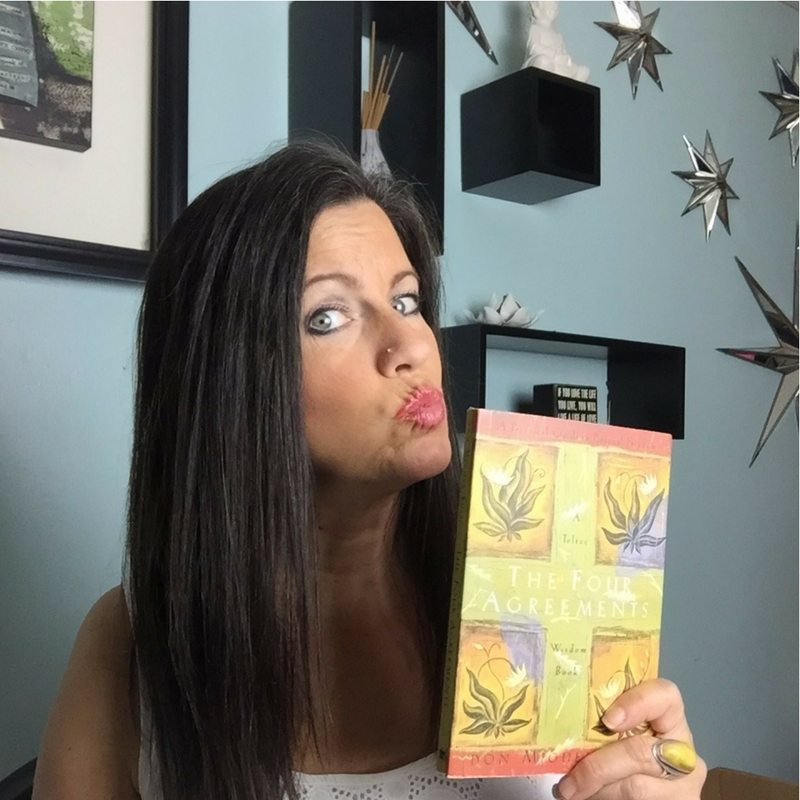 Hi, I'm Shannon Elhart… a lover of books, learning, personal growth, spirituality, and anything with words – especially words that bring hope and peace!
Green Heart's book club is about all that – a celebration of outstanding authors and their messages.  When you join the group, we all read the same book for a month, then we jump on a group call so I can teach on the author's main message, and we can all have meaningful dialogue and personal growth.  I believe reading self-help books is helpful, but applying the content to your life… is life changing!  That's what the book club is all about.
I'd love to have you join us!
Try the book club & bring a friend for free:
Here's how it works:
You join with the monthly payment option two below (it's only $30)
Then you invite a friend to join
You can either treat her to the book club or split the cost ($15 each) – I'll leave that up to you two
Once your friend says 'Sure, I'll try it!' – have her email me to tell me she's your guest

My email is shannon@shannonelhart.com

After three months (March 2018), you both decide whether or not you want to stay

I do warn you… I'm very confident you'll love it and stay :)

Plus, become a member this week, and you can both join us for our first call on January 10th when we'll be discussing Debbie Ford's book 'The Best Year of Your Life'.  Even though you probably won't have time to read it, you'll love what I teach about keeping your thoughts positive and mind focused on what you DO want, living intentionally (with a fun monthly goal), and looking at every life area to determine what you really want.
This offer is good through December 31, 2017
A little history…
In 2007 my life was falling apart – for many reasons.  I was lost.  Therapy was helping and so were some other practices I was committed to such as daily meditation.  However, I could feel I needed more.
I was pleasantly surprised to have books 'given' to me one after another… it was like the universe knew exactly what I needed to read at the right time in my journey.   As I now understand, we are always guided, so I kept reading.  Book after book, author after author – I learned more about myself, and I grew as an individual.
Here's what was different about me – I didn't just read the books… I applied them to my life.  While I read, I also underlined and dog-eared every book – I figured out how to use what the author was teaching to make my life better.
And then I did two things:
1 – Kept reading!  I've done this so much that I now have an amazing collection of self-help books.
2 – I started a book club.  It was called ROOTed, and we met at a local bookstore called Treehouse Books.  It was so much fun, that I started more – one at a friend's house, another at a yoga studio, a couple groups at my house, and one in my office.  I even had a few wonderful readers who joined us virtually.  That was 2008, and ROOTed lasted for a few years.
But it's been missed by me and many other people… so it's back!
The Green Heart Book Club is ROOTed *re-invented* with improvements and even more fun!  I'm thrilled to pieces to offer it again, and I hope dearly that if you're a book lover like me and you're looking for more personal growth, that you'll join us.
What's included:

X
With your membership, you'll:
enjoy

'The Preface'

– a private page on my site to get you ready for the book.  I want you to enjoy each book and learn from it as much as you can, so I'll provide you with a video, audio, or other creative way to give you a strong start with the book and its theme.  This will help you start applying the book's information to your life as you read rather than waiting until you're done.
be included in our

virtual group gathering

when I teach on the author's message, and we have plenty of time to discuss our favorite parts, share insights, ask questions, and talk about how the book's content can make our life better.  This is a gathering you can join from anywhere in the world via your computer or phone.
have access to our

private Facebook group

so you can get to know other members, ask questions, and share thoughts about the book at anytime.  It's a great way to make new friends from anywhere in the world!
x
One of my favorite parts is the monthly
Green Heart Book Guru Award


x



Each month one member is chosen to receive the GHBG Award.  This world recognized award is very prestigious ;) and is awarded to the member — the Book Guru — who put the most into or got the most out of the book.
The award includes a package sent to the winner's doorstep that has some surprises tucked inside, a certificate for a free half-hour session with me (value $75) + some other honorary recognition and fanfare!
There are two ways to pay:
Option one:
You're joining for the year (or next twelve months) and get a free month for paying in advance!  You'll get the announcements of each month's book so you can scoot out to grab a copy as soon as possible.  You'll get access to The Preface (a private page on my site) for each book, be included in our private Facebook group, and also be invited to join our group gathering when I'll teach on the book and we can learn and discuss more together!  Finally, don't forget that you'll be in the running for the monthly Green Heart Book Guru Award ♥
$330
(one month is free)
Option two:
You receive everything in Option One, but you pay monthly!
$30/month
(there is no free month with this option)

How the book club works:
Book titles are announced approximately six weeks before our group call so you'll have at least a month or more to read it.  When I announce the title, I'll also let you know the special link to The Preface page on my site.  This will help you get ready to read, and you'll enjoy the book even more!
The Preface page will also explain the theme for the book, which is what I'll plan the lesson and our discussion on.
While you're reading, and really at any time, you're free to jump on our private Facebook page to ask a question, share thoughts, and just enjoy the other great members!
The following month the whole group will gather on a call when I'll teach on the book's content, and we'll all share insights and discuss the book's key messages.  It's a ton of fun to learn from all the amazing minds on the call, and take the teachings deeper into your heart.
Sample Timeline: I announce the book's title in mid-November 2017.  You'll read the book throughout the month of December.  In early January the whole group gets together – virtually – so I can teach, and to discuss, share thoughts, new perspectives, and grow as individuals.
FAQs:
What will I learn?  Here's a quick summary of what you'll learn the first few months*:
December's book:  how to create your best year yet in 2018, quieting all the bs negative self-talk that defeats you, and living more intentionally
January's book:  starting each day on a better note, focusing on what you want in your life, increasing optimism & inner peace
February's book:  fear… how you can overcome it (or at least work with it when it's unavoidable)
March's book:  quieting your mind, being present or mindful in your day, meditation, focusing on what's most important in your life
x
What if I've already read a book?  It's unlikely you've read each book I'll choose throughout the year, but if you're concerned about that you don't need to be.  I believe two things:  1) you're always guided, so if the book is popping up in your life again… you're probably meant to read it again!  And  2) you'll find new 'nuggets of gold' the second time around + the lesson with me and dialogue with the group will bring even more epiphanies to your life!
Being a book-nerd of sorts, I actually have some books on both Audible and hardcopy – I like to listen while I walk my dog or drive, but I also like to mark up some pages, plus I've read some books multiple times.  In fact, as I write this, I'm listening to my all time favorite by Marianne Williamson, A Return to Love, for at least the fourth time  :)
What do you mean by 'The Preface'?  I'll choose a theme or two for the book – from its content and what I feel is the author's main message.  With that theme in mind and the end goal of the book, I'll create a private page on my site with an introduction and helpful resources.
For example, if the book's message is about having more self-care in your life so you're better able to care for others and do all the things you love – I might create a quick questionnaire to get you thinking about your current level and modes of self-care, along with a calming meditation to get you started with a few self-care minutes each day.
My goal with this book club is that you a) enjoy the book, but also b) learn and grow from the author's message and by applying it to your life.  The theme is what I'll plan the lesson and discussion on, but the preface will get you on a strong start with that theme.
What's a lesson like for our group gathering?  I might be a not-so-great cook, but I am an excellent and creative teacher.  Continuing on the example above about self-care, my lesson would probably include discussing your Preface work (what's your current level and mode of self-care).  Then we'd discuss why it's important to have self-care, brainstorm ways of doing that, then how to actually make it work in the typical busy schedules people have.  Because I love calming work, I'd probably also teach something to deepen a meditative practice, like a breath work technique.  All wrapped up in this lesson would be opportunities for all of us to tie our discussion in with the author and book – what was taught, how we feel about, how we can apply it and how that will make life better.
What does the Green Heart Book Guru Award winner receive?  I have lots of creative ideas up my sleeve!  Here are some…
The award winner will have a package arrive on their doorstep, and inside they could find:  a book with a fabulous bookmark, a vial or two of essential oil, a cool mug or candle, notecards, inspirational or intuitive cards, an awesome journal with pen, an inspiring book to read each day, a beautiful scarf, or… really, anything I find that's super cool and fun!  (please feel free to share your suggestions!)  I'm also lucky to be well connected with some pretty amazing people around the world, so there will likely be surprises from some of them included in the award.
One of the best parts, if I may say so myself, is that the award winner will also get a half hour session with me :)
What's the cost to join?  There are ways to pay above – the annual payment gives you one month free for the year.  Otherwise, it's $30/month.
How do we meet virtually?  I have a Zoom account – which is kind of like a snazzy Skype.  We'll be able to see each other and chat (although you'll have the option to turn off your camera if you want to discretely sit with rollers in your hair)  :)  Meeting on Zoom is free for you, btw.
What if I can't make the virtual meeting?  I'll send you a recording, and you'll still learn a ton – I promise!
What if I don't finish the book?  Don't worry – still jump on the call!  I guarantee the discussion will benefit you.
Are there other ways of connecting with you and all the readers?  Yep, you can choose to join the private Facebook group if you'd like.
What if I don't like the book or its author/message doesn't resonate with me?  I believe that even if you don't fully agree or align with an author's message, you can still learn a lot from the book.  If you've given it a try and still feel very blocked, let me know and I'll provide guidance.  That's what's great about the Facebook group – it's a place where we can all share thoughts about each book.
Did I miss something?  Email me any other questions at shannon(at)shannonelhart(dot)com
*Topics and book titles are subject to change
I have thoroughly enjoyed the connection that Shannon facilitates between all the members of our reading group. The books she has selected for all of us to share are wonderful. She encourages the inspiration to dig deeper within yourself and continue to grow on your personal journey.
K.L., Grand Haven, MI
As a ROOTed book club member, Shannon picks books that really speak to me. Shannon's guidance through the books and her personal insight is of tremendous help as I work toward meaningful change and improvement in my life.
Tami D., Arizona
Two words: Life Changing!  I am so grateful I found this book group.  It was exactly what I needed for this year as I was going through a lot of change in my life.  It has affected me so much more than I'd ever have guessed… that's why I'm in for another year!
Catherine, West Olive, MI
I have really enjoyed the ROOTed book group. The books that are assigned challenge me to think, learn and grow. I have met wonderful people in my book group, and we have dialogue that adds so much more depth to each read.  We are all on our own paths and yet each book speaks to each of us on our journey. Shannon has done a fabulous job of instructing and being open to new insights that arise during our discussions. I highly recommend these book groups to anyone that is looking for a way to meet new people and learn new things… this is not your average book club!
Missy, Holland, MI
I have been strengthened and stretched from the very beginning of our book group. I am so thankful you have entered my life. To feel connected with other people on life's journey is truly a gift. I am truly blessed from you and hope to bring others peace through intention.
JL, Hudsonville, MI
Shannon is a truth seeker and someone who is true to herself. She doesn't just speak about meditation, spiritual growth and ways to live life more authentically. She walks the walk. She looks at a person's spirit and helps each person see their gifts.
Melissa R., Holland, MI