Hearing Shannon speak feels like she's telling YOUR story – not because the facts are the same, but because her ability to speak vulnerably, with unsurpassed compassion and care for the audience, creates a safe space for introspection and healing. Bringing Shannon in to speak at your event feels like bringing in a life long friend – who will not only wow your audience but will help them create longed-for change in their lives.
Heal the Pain From Your Past to Create a Happier Future
After losing her infant son to Potter's Syndrome, Shannon became fiercely determined to heal beyond the grief. She decided to also heal pain she'd held onto from past experiences – addiction, rape, divorce, financial loss, loneliness, and a debilitating belief of not being good enough.
Over the next decade she searched for inner peace and hope – going to great lengths to learn forgiveness, acceptance, and, most importantly, self-compassion. Shannon's vulnerability and gift for storytelling keep audiences on the edge of their seats – with tears, laughter, and deep reflection. She has a gentle way of guiding the audience to look within and begin a personal journey of healing the past.
When hearing Shannon speak, your audience will:
• Learn why facing and healing emotional pain is the path to true, lasting happiness
• Explore how to start healing pain from your past when it feels overwhelming or even impossible
• Review the stories from your life, and consider a variety of safe ways to share your experiences so you heal more deeply
• Envision a new future in which pain plays a vital role in your life but rather than limit or define you,
it leads to a better way of living
• Understand that as you heal the pain from your life, you make a big positive difference in the world
Audience members experience a profound shift in their viewpoint on pain and healing – and leave with a sense of inspiration, hope and grounded guidance to begin healing their past in a way that will free them to live a more joyful and fulfilling life.
Shannon is a deep and moving speaker.  She uses her powerful story of love and loss to reach into audiences hearts and create a heartfelt experience like no other.  Everyone in the audience walked away with a better understanding of themselves and tools to exact real change in their lives.  Shannon is a must-have for your event.
Veronica Kirin
This presentation can be delivered as a keynote, business or association presentation, workshop or a half or full day training.
To request Shannon Elhart as a speaker for your company, conference, or organization, please contact support@shannonelhart.com with your booking request.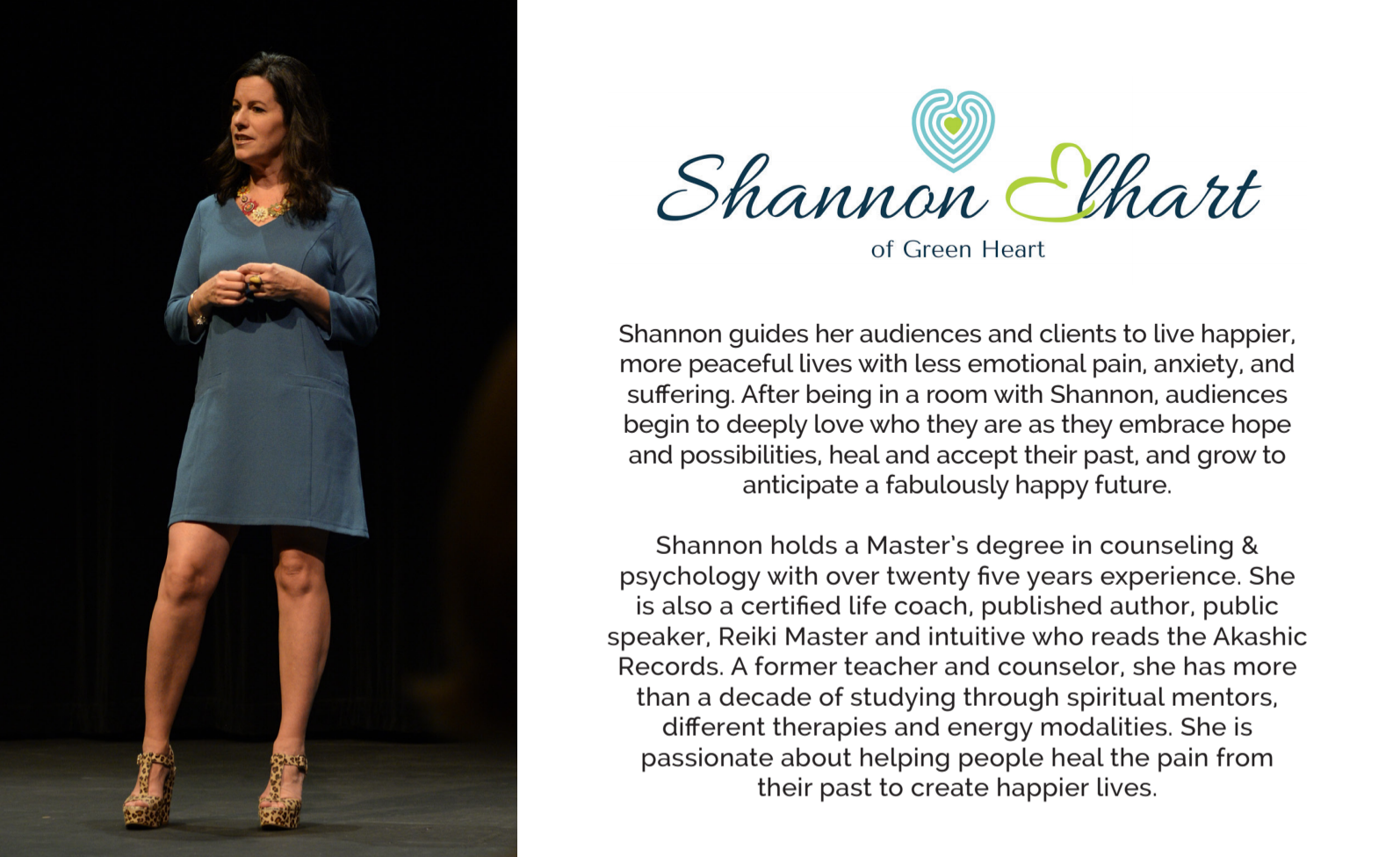 Rave reviews from audience members
From the moment Shannon started speaking, I was mesmerized. Her voice, her words and her stories drew me in. You will learn — in a short time — how to confront some of your own pain and learn to see yourself and the world from a better place. No one wants to be confronted with grief, pain and sorrow, but knowing that there are ways to heal, ways to leave the pain (and that old self) behind will keep you on the edge of your seat wanting more from Shannon Elhart.
Kathleen Audet
Shannon's compassionate and powerful message about using pain from our past to open up future joy had a huge positive impact on me during a really hard time of loss.
Erica Wexler
I came to hear Shannon speak because I wanted to start a new journey in my life – one of healing, of hope and love, and of less fear. By listening to Shannon, I now have hope. I can trust that by doing the things she teaches – day by day – I will grow and gain strength in creating a happier future.
Andrea LeMieux
When Shannon speaks she touches your heart, making it okay to admit that you may be struggling to heal some pain from your past.
Gina Best
Shannon delivered a powerful, yet eloquent talk about the path to healing painful life experiences and the imperative of positive life choices.  Her personal journey is inspiring and one that many people can relate to.
Tonya Fitzpatrick, esq.,
Shannon inspired me to own my story and to trust it will be enough.  I was left feeling empowered.
Taunya Zipse
Shannon's speaking is truly inspirational.  She draws you in with her storytelling and empowers you to life your best life!
Angela Sargeant
Shannon helped me to realize just how important the stories I have are because of how much impact they can have in the lives of other people.
Laura Highcove
I saw Shannon Elhart speak at The Spotlight MasterTreat, a women's empowerment event. There were many excellent speakers, but she stood out for me in two distinctive ways, her gentle voice and her opening statement. She spoke with such elegance and compassion. When she heard a message, 'you have a choice' that led her consciously to the healing of her pain, it resonated with me on so many levels. As she declared the statement, bring change to the world and inspire others by encouraging using our painful stories to enlighten others was heartfelt. I was drawn into her space and could feel the powerful energy she held within her and for others. Her passion and belief of stepping out of the darkness by sharing our most painful moments not only begins our healing but gives others the courage to start their healing process. I was blessed and honored to have met Shannon. My sincere belief is you would feel the same. I am grateful.
Sandra Hisaw
I heard Shannon speak at a women's leadership conference and to say that I was blown away would not be sufficient.  She has experienced such deep, unimaginable pain but is able to bring her audience into the beauty of that pain.  She was able to tell her story and move you but to keep you in the feeling of hope.  That is a unique talent and one that allows the audience to relate to her as we have all had varying degrees of pain, and truly learn from her.  You could truly hear a pin drop when she spoke.  I will carry her message of hope with me.
Courtney Spencer
I had the privilege of hearing Shannon speak at a retreat in Las Vegas and she touched my soul. She is a compassionate and engaging speaker who connects with an audience on a deep level. Everyone was on the edge of their seats listening to her speak and I saw so much understanding and connection in their eyes. Her ability to express herself so eloquently when sharing such emotional and painful experiences is profound. You are guaranteed to be moved and inspired by her story.
Kristen Harcourt
Shannon is a deep and moving speaker.  She uses her powerful story of love and loss to reach into audiences hearts and create a heartfelt experience like no other.  Everyone in the audience walked away with a better understanding of themselves and tools to exact real change in their lives.  Shannon is a must-have for your event.
Veronica Kirin
Contact Shannon for an interview


*
Available for podcasts, summits, webinars, 
or as a bonus to a virtual class
x
I'm happy to speak and teach about:
x
my stories of healing, letting go, being optimistic, and living happily:

grieving my child, issues with addiction, divorce, financial struggles, depression… all the good that came from the pain of these experiences
well being of the mind: confidence and self-kindness, emotional peace, acceptance, releasing the past, forgiveness, creating your future intentionally but without expectation
spiritual connection: prayer & meditation, breathing practices, gratitude, compassion, intuition, authenticity
the amazing effects of being present in life – especially with the people you love
mindfulness practices – I might be sitting on the beach for this interview
Speaker Bio
I have a different approach to living a happy life.  In order to find true, lasting joy, I believe you need to dive into your pain (rather than avoid it).  After my newborn's death, I had a defining moment when I realized I had choice in how to handle the suffering I then felt – let that pain define and limit me, or heal it consciously.
I chose to heal, and by doing so I – surprisingly – found more pain from my past from:  being raped as a teenager, addiction to alcohol, divorce, and a lifelong struggle with a lack of self-worth.
As I healed more and more, I became happier, more confident and fulfilled. Now I teach people worldwide how to heal the pain from their past in my program The Healing Journey which, as clients have raved, 'is like a library of self-help books and years of therapy all wrapped up in one outstanding program.'
I'm passionate about making a difference in our world by creating more peace.  I believe people who've released the past and embraced a happier lifestyle are the way to a peaceful world.  I am a life coach with a Masters degree in counseling psychology, author, speaker, Reiki Master, intuitive who works in the Akashic Records, and inspiring person.
I am grateful to live near the shores of Lake Michigan where I can go to my sanctuary – the beach – at any time.  My two amazing children and I enjoy spending time together – especially movies, board games, books, and a lot of laughter.  I'm blessed with a wonderful family and a fabulous circle of friends.  In my free time I enjoy quiet nights with a movie or book.  I also love walks along the beach or in the forest, learning new things (especially regarding spirituality and healing), and meeting new people.  I believe everyone has a story that, when shared with others, creates compassion and connection – so I enjoy speaking with anyone.